OVERVIEW
Admission:
In 2019, admitted to the Ministry of Justice & Islamic Affairs- Bahrain as a Practiced Lawyer.
Practice Areas: Employee Benefits and Pensions, Employment and Labor Law, Insurance and Reinsurance, Litigation, Telecommunications, Civil Aviation and Civil.
Languages: Arabic and English
EXPERIENCE
Experience and Responsibilities (2016 – to date):
Ahmed Abbas is an ambitious and very active young lawyer with high legal knowledge and researching skills. He proved himself within a short period of time since the internship program in the firm.
He has excellent analytical skills, compelling briefs, motions and arguments. He conducted many legal researches which have benefitted our firm immensely. The legal team consistently impressed with Ahmed's performance and productivity that shows the high degree of diligence. He is involved in different tasks including drafting and reviewing contracts, rendering legal opinions for clients, and representing clients before the courts of Bahrain. 
Ahmed is a certified Arbitrator registered at G.C.C. Commercial Centre since 2019. He also successfully passed The International Federation of Consulting Engineers (FIDIC) program at G.C.C. Commercial Centre.
He has an important participation in the annual report of doing business in Bahrain 2018,2019, 2020 and 2021 (A World Bank Group Flagship Report) that compare business regulation for domestic firms in 190 economies including Kingdom of Bahrain. Ahmed has valubale contributions to many articles about EMPLOYMENT & LABOUR LAW and DIGITAL BUSINESS published in Global Legal Group and The Legal500.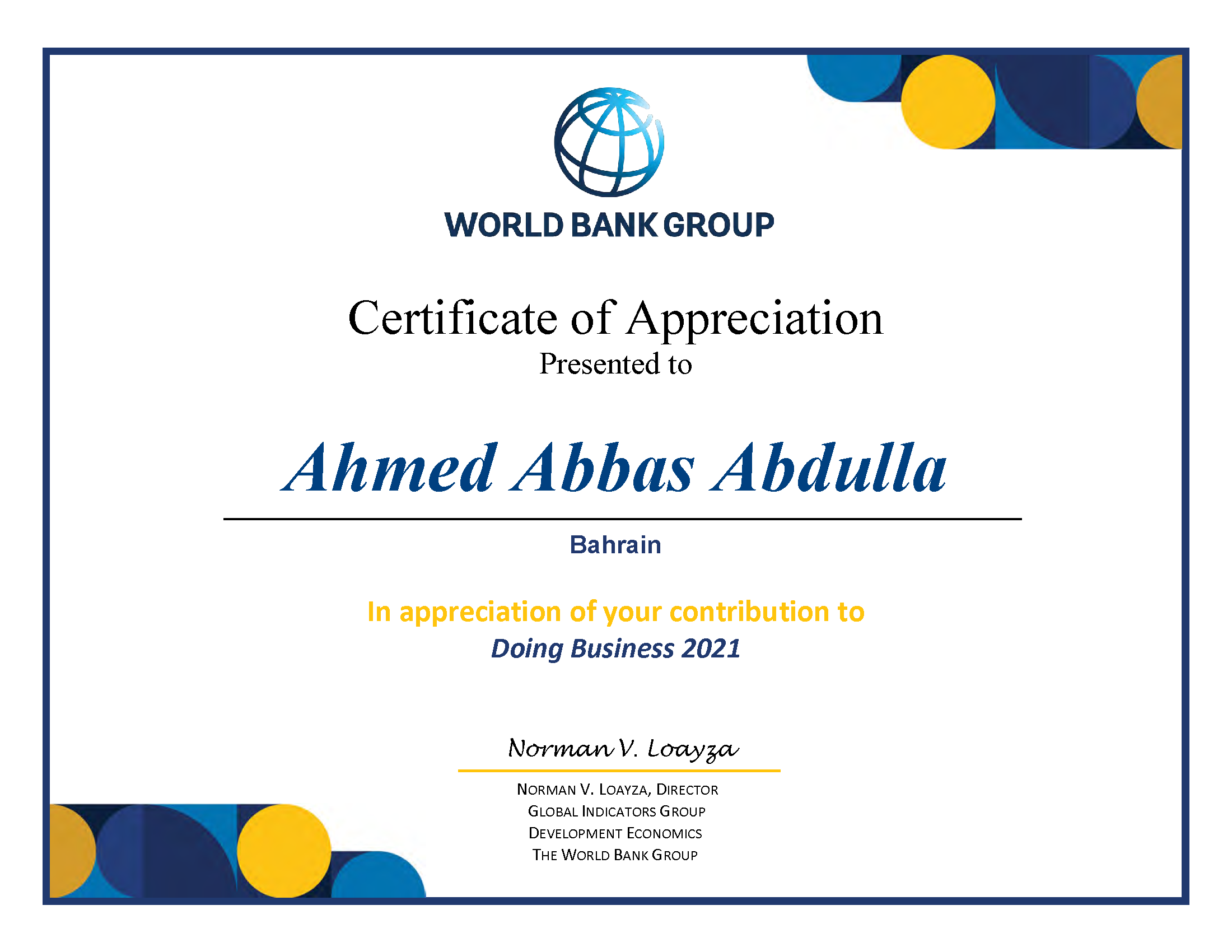 CREDENTIALS
Education:  University of Southampton , United Kingdom, Bachelor of Laws, 2016
PUBLICATIONS
AWARDS